Hi! I'm Shawntel Asemota White.
I was born to a Jamaican immigrant mother barely out of her teenage years and a Nigerian born computer engineer in the winter of 1987 at Hollywood Memorial Hospital in Hollywood, FL.
[Listen to 'A Dose of Me' here on The Soa Inspired Podcast]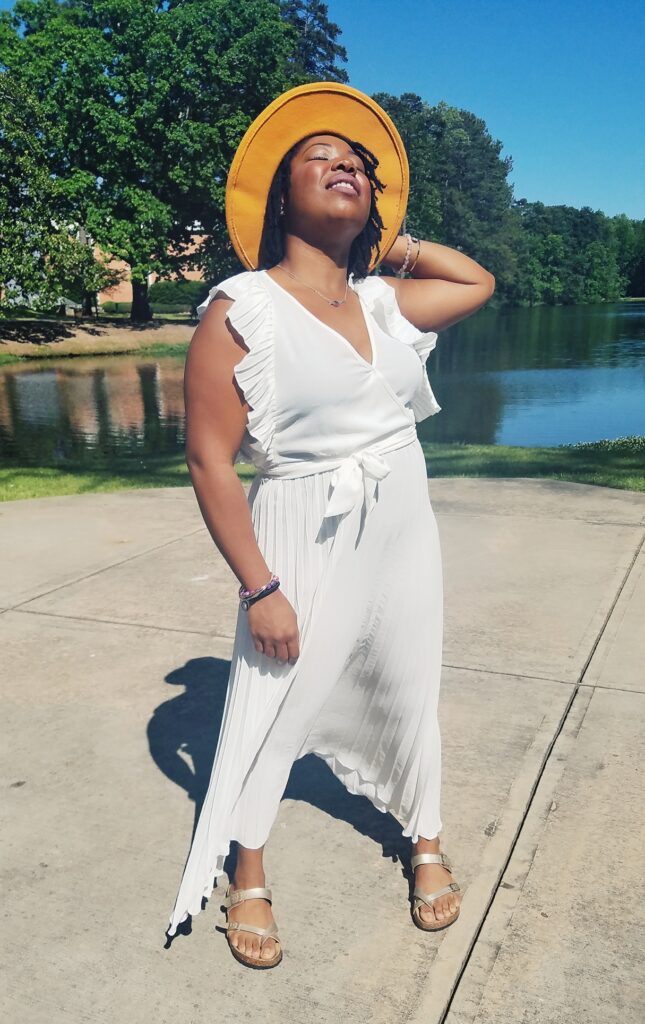 Life's a beach when you're an only child, but that changed when my family moved to Georgia and my younger brother was born three years later. I would say I was an adventurous, curious, talkative, opinionated, unicorn of a child…who became an adventurous, curious, talkative, opinionated, unicorn of a grown-up. Unlike many of my peers, I've always loved school and books and learning. I've never been one to shy away from learning something new. The star student, I had perfect attendance until the 6th grade when I missed school for the first time because my baby brother was born…three days before my birthday. I returned to school that following Monday and was so excited for his birth day that I completely forgot MY birthday. My cousin had to remind me what day it was! School has always been my favorite place to connect and grow and I've always been a "teacher's pet." Many of my teachers had my mom's number on speed dial, because well…I liked to talk ALOT during class and often got in trouble for sassing the teacher, but they all loved me anyways and could see my potential. They nurtured my thirst for information and encouraged me to always strive to do my best.
In high school, I wouldn't say that I was popular, although I was well know and well liked. I had a lot of friends and knew everyone from the emos to the jocks. I hated cliques and avoided them at all costs. I avoided cliquing up by being active in a host of clubs and organizations: BETA Club, Key Club, Debate Team (for a short stint), FBLA, Class Treasurer, Track & Field, 1st Soprano Chair in Choir, National Honor Roll, school store manager and display window designer, and Vice President of DECA. It was through DECA that I realized that I wanted to work for myself and started to acquire the tools to be my own boss. When I graduated at the top of my class, I thought I wanted to be a lawyer but soon learned that me and Political Science weren't friends.
I entered the University of Georgia in the Fall of 2005 as a pre-law student. By the middle of my freshman year, I had changed my major to Journalism and was much happier with my college life. It was on campus in Athens, GA where I learned to value my own opinion. Often times you're told what you should do and who you should be, but all I wanted to be was the best version of myself…which still holds true today. At UGA, I learned about time management and deadlines. I learned about my true abilities as a creative and future business owner. I learned that college is the experience that you make it and what you do here is the backdrop to who you will become after graduation. I learned the true meaning of pride in one's team (Goooo Georgia Bulldawgs) and one's work. One of my fondest memories is creating my first event as the Program Director for the UGA Chapter of the National Council of Negro Women. With the support of the organization and the help of my team, we created the first sold out city wide hair show. This was the event that birthed my first business, Legendary Event Planning in Athens, GA.
With a team of three: myself, business partner Ray, and assistant Abriauna we coordinated the Hot Corner Celebration and Soul Food Festival which attracted over 1500 people and garnered local press. It was an excellent feeling to know you were a part of something that was historic and delighted by so many people. I got my first real taste of the trials of business when I received a cease and desist letter from an Atlanta based event planning company with a name "confusingly similar" to the one we operated as. We felt defeated and dissolved the business. That summer, I graduated with my Bachelors in Journalism with a concentration in Advertising and was released to plant my roots as a graduate. It wasn't until almost a year later that I officially started my next business SOA Event Concepts, LLC in my hometown of Rex, GA — a small suburb 30 minutes south of Atlanta. It was through this business that I learned everything I know in business. It was here where I failed and succeeded time and time again.
Now, some years later, I can say that I've been a successful "celebrity" planner having planned events with Young Thug, Myleik Teele, Ludacris and The Ludacris Foundation, and pretty much all the Real Housewives of Atlanta. I've planned events in Atlanta, LA, Birmingham, and Michigan. I've worked with community leaders and influencers alike looking to create experiences to engage with their audience. I've worked with budgets from $5000 overall to $10000 just for decor. I've worked with organizations like Habitat for Humanity, the Georgia House of Representatives, 100 Female Entrepreneurs, The Walton Foundation, and AmbitiousX. I've worked with Google, Beautiful Textures, Smart Water, Deep Eddy Vodka, Dry Sparkling, Monster Energy Drinks, Well Care, Mielle Organics, The Mane Choice, Nissan, Myx Moscato, Harley Davidson, and a host of other powerful brands. When it comes to event planning, I've done and seen a whole lot.
As an events entrepreneur, I wanted to be able to box up the experiences I was creating and offer a product where non-event planners could create their events utilizing tools, resources and supplies. I pitched this idea to a black led business accelerator, Bantunium Labs and became a semi-finalist, but it just didn't seem like the right path for me. My thoughts as an entrepreneur were shifting, but I wasn't sure where I was being led.
Through my experience as an entrepreneur and my chosen career path of event planning, I've learned that success doesn't matter if you don't take care of yourself first. All that glitters isn't gold, if you are unhappy with yourself regardless of your success. Watching the insecurities and self hatred of some of my most successful clients showed me that mental health is one of the most vital aspects of being an entrepreneur. If you fail to make your health the center of your life, you will inevitably fail period.
It is this observation that led me to create Dose of Om — a platform advocating for self-care and self-love for the entrepreneurial woman of color. I launched this platform January 2017 and attracted 30 recurring members from all over the U.S. and got interviewed by Ebony.com. Creating this platform led me to be a part of the first cohort of BuiltxWomen in July 2017, a 6 month incubator led by Diamonde Williamson of watchBlossom and hosted at Tech Square Labs. I pitched to Atlanta's black tech community and received my first series of funding. Through this incubator, I found support for creating a self-care platform and the confidence to pitch to bigger and more influential audiences. I became a finalist for iEnrichHer in Washington, D.C. and pitched my platform to an audience of powerful and influential men and women at the historic Halcyon House. Though I didn't win the pitch, it reassured me that what I was building was needed, wanted, and had the potential to be successful.
In the Spring of May 2019, I became a mother for the first time to a beautiful baby girl and my purpose became even more clear, to be a source of inspiration to other girls and women who look like me. I launched the Soa Inspired Podcast to share my story and elevate my expertise and broadcast my business as well as highlight interesting people in my network.
And so, we're here at the now. Florida born, Georgia made semi-retired event planning extraordinaire currently on a self-love journey making it through my 200 hour Yoga Teacher Training and pivoting my events business into a Wellness and Business Strategy platform hoping to inspire and influence female business owners who look like me to advocate for their self-care because we are nothing to no one if we aren't first everything to ourselves.
I can be found in Atlanta mommin' and wifin' with my family, working with female entrepreneurs on building their confidence and profitable strategies, teaching meditative stretch workshops and advocating for my self care with the support of my tribe.
That's my dose of me…thus far.