This is the year I actually expressed my second Amendment rights and it was scary as hell.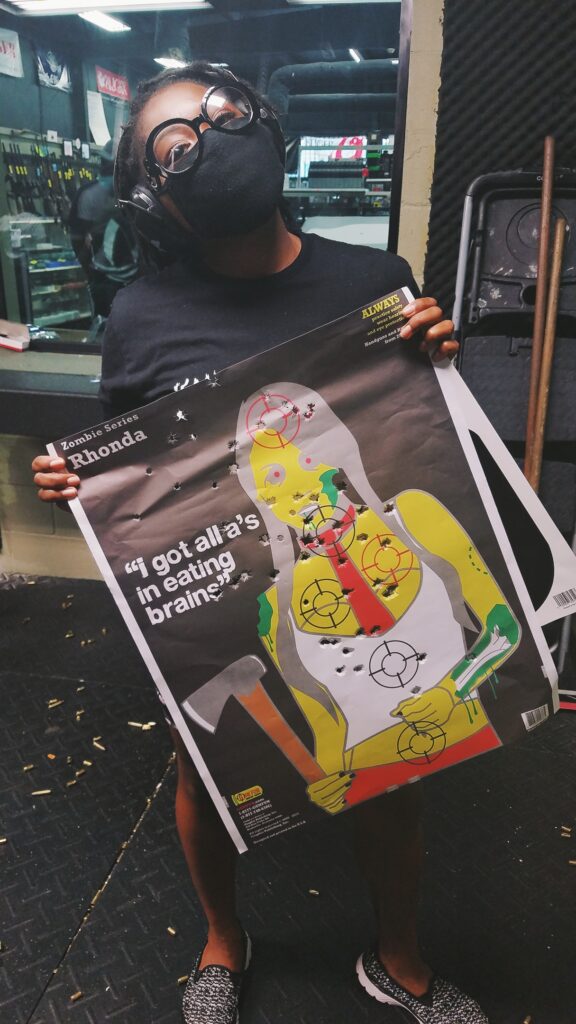 If you would've told me that I would be a proud gun owner ten years ago, I may have looked you in the face and started laughing and then went on about my business. I don't think I've ever been adamant about owning a gun, but I have always been of the school of thought that you should always be prepared to defend yourself.
I remember taking a self-defense class with many of the other girls on my dorm floor. One of the first things I recall the instructor saying was, "Always be prepared to protect yourself. Anything can be used as a weapon, but your goal is to get out of harm's way intact." That stuck with me and from then on I began to carry a host of hidden weapons and learning how to use a gun. I even took a girl's trip with one of the organizations I was in to the gun range to learn safety practices and how to actually use it.
I'm not going to lie, since that first time using and shooting a gun, I felt like a bad ass.
I wore my cutest, most stable heels paired with an outfit that empowered my inner Jesse Jane. Some years went by and I went to the gun range fairly seldomly with my husband. It wasn't until our daughter came into the picture that they need to protect my family became more of a necessity than a passing fad.
Living in a society where women are constantly assaulted, harassed, or worse…killed keeps me in a constant state of awareness. Having a daughter and knowing that as she grows, I will have to teach her how to defend herself makes me both anxious and excited.
My husband taught me why it's important for us to really make serious our right to protect ourselves and our family. The racial climate of 2020 really instilled in me why I should raise my voice for my rights. My husband bought his first gun this year. He purchased a Taurus G3. He purchased this particular gun after doing extensive research and getting reviews from his groups and peers because it's reliable, a good size for his frame, and was a decent cost.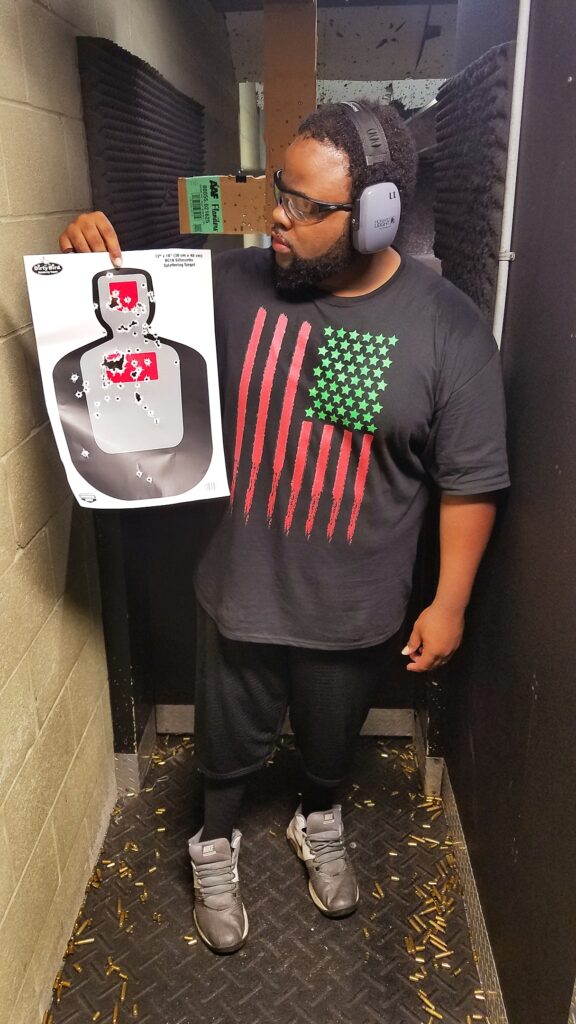 When it came time for me to make a decision on what gun I would own, I was apprehensive and scared, honestly.
What does it mean to be a black women who carries a gun? What does it mean to bring this firearm into my household and around my family?
I had a conversation with my best friend who has had a carry and conceal license and a gun for as long as I can remember. She said to me, "as women…as black women, we have to protect pussy."
I realized, she was right. Women have to protect themselves. Too many times we see stories of women having to defend themselves and not being properly equipped with the right knowledge or weaponry to escape their tormentor. We've seen stories of other Black women who DID defend themselves and unfortunately the law ruled against them. That's scary. However, it states in the Constitution of the United States of America, we have the 'Right to bear arms' or as my bestie likes to say, "we have the right to protect pussy." That's the reason I had to overcome my fear and secure my right.
When it came time for me to decide on my gun, I asked my husband for advice and did my own research. I knew that I wanted something that was easily concealable, lightweight, reliable, and made me feel comfortable in operating it. I decided to get a lavender Taurus G2c. I chose lavender because it's my favorite color and, in my opinion, if I take out my gun to protect my family, I have found comfort in pulling the trigger to do so.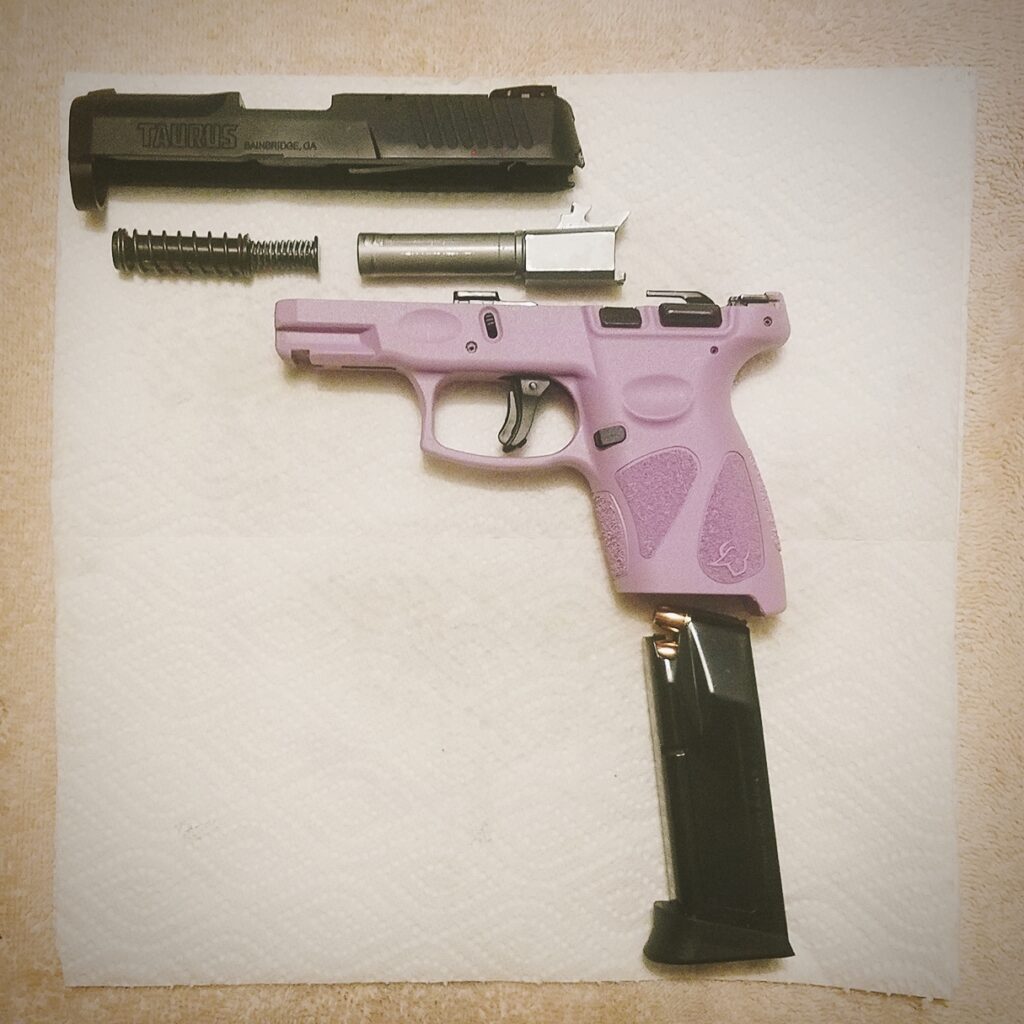 Here are 5 things to consider when purchasing your first firearm and how to get comfortable carrying:
Research the type of gun you are interested in

I chose a semi-automatic handgun because I wanted something that wouldn't be complicated to operate should a situation arose where I would have to use it. I still have full control of how the gun will be used in my hands, but also the right safety measure built in to the gun for it to be safe for me and my family.

Research the gun manufacturer and their company values

There are a host of gun manufacturers out here. Some are made in the USA and some are made abroad. some have been in existence literally since before the Civil War, while others are fairly new to the market. When researching the gun manufacturer you want to make your gun, look into their history, any causes they support, safety rating, and recalls. I found out companies like Glock have in the past supported some questionable "white nationalist" views, which made me not want to support them. Make sure to do your Googles when deciding on your gun manufacturer

Decide what size of gun and bullet you are interested in

How big of a gun do you want to own? My current gun will not be the only gun that I plan on owning, but it may be the only size of gun that I get. What size of gun do you want your first to be? Maybe like me you wanted to own a 9mm or like my mother who owns a .45 pistol. Maybe you're more interested in a shotgun or rifle, make sure you research the different sizes and reviews

Go to the shooting range to test out your options

My husband has said on multiple occasions that part of the reason why we see innocent bystanders getting hurt or killed by stray bullets is because the people who have guns and are carelessly using them have never or don't often go to the shooting range to practice and learn how to use them safely. Many of them get a gun, try to look cool and take pictures with them, but when it comes to using them wisely they fail because they never took the time to practice and learn about the gun that they have. Make sure to visit your local shooting range so that you can talk to trained professionals about how each gun operates and other pertinent information for the questions you may have. Plus, you can test out a gun similar to your top pick or the opposite .

Schedule an appointment to get your carry and conceal license ASAP!

There is a process done with your County office in order for you to acquire your carry and conceal license. During the pandemic, these offices have seen an influx of applicants. We scheduled our appointment 45 days in advance because they were booked. I once talked to a woman whose appointment isn't until March 2021! Schedule your appointment as soon as you've made the decision to become a permit holder, the waitlist is long.

Practice carrying your gun to build up the confidence to carry consistently

The only way to become comfortable doing something is to consistently do that thing. It may start off with consistently wearing the holder or bag and then loading in your weapon.
I don't think I'll ever be 100% "comfortable" with bearing arms, but it is my right and I must be prepared to protect or defend myself as well as protect and defend my family. If motherhood has taught me anything, it's that I will do whatever I have to do in order to protect my children.
What about you?